A Complete Soutions for
Agri-Producers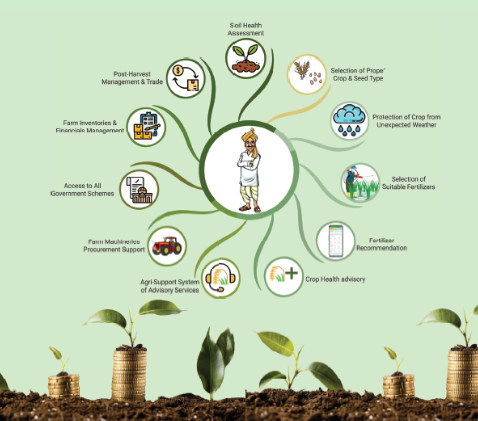 Dharti Ka Doctor (DKD)
The Most Cutting-Edge And Innovative Technology With A Traceability Mechanism For Evaluating Soil Health. DKD Is A Patented Technology That Includes The GEO Referenced Soil Sample Storage Pouch And Process Of Soil Testing (202111056212), Rapid Soil Testing Kit (201911012091), And Soil Testing System (201911012148).
Features of
DKD
DKD DASHBOARD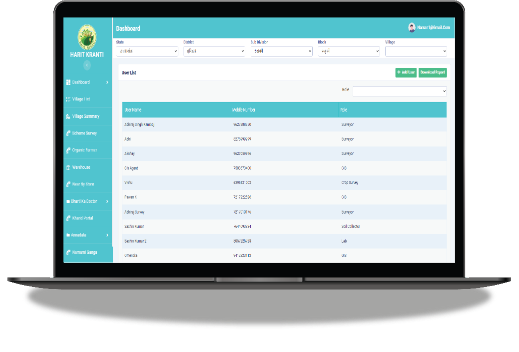 Centralized Control
Dynamic Role And Permission Feature
Data Analytics
Task Assigning For Field Work Force
DKD APP
Secure & Restricted Access
OTP-Based Authentication
Different Types Of User Interface Within One App
Separate Dashboards For Different Users
Ability To Work Offline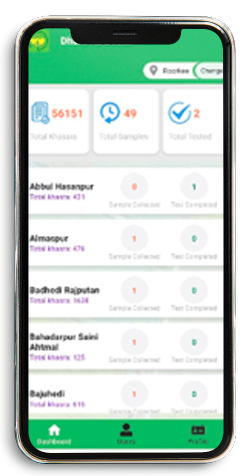 Managing
Workflow

Roles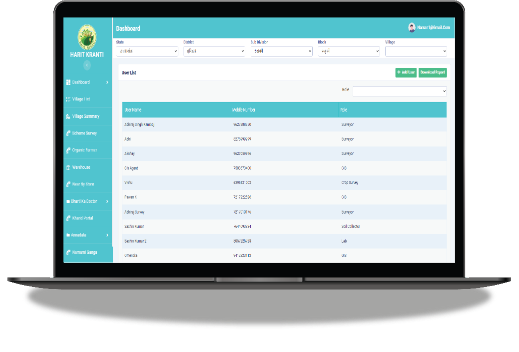 Admin
Data based on state, district, block, village and khasra
Block-wise data
Total villages & khasra
Total pending number of soil samples
Village level data
List of assigned users
Pending & processed soil samples with reports
Option to call user using mobile number
Tracking of work progress
Data insights of soil health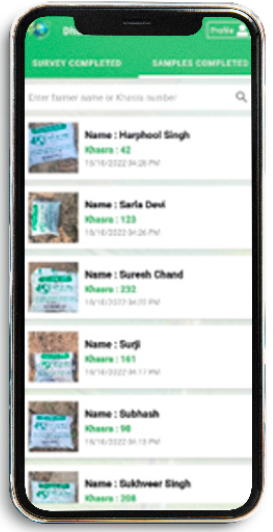 Soil Collector
List of assigned villages
ocation finder for assigned Khasra
Create new soil sample file
Enter associated data
List of collected soil samples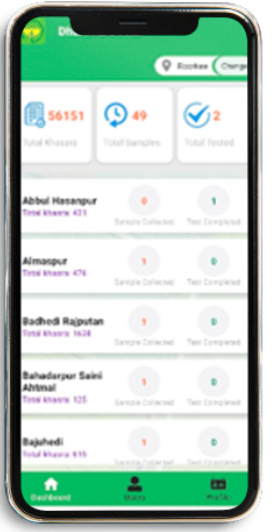 Lab User
List of pending and completed soil samples
Option to scan soil sample barcode
Enter soil test data
Generate soil report
Harit-
Kranti
Soil Testing and Fertilizer Recommendation
Harit- Kranti Uses A Three-Component Approach- Dharti Ka Doctor Soil Testing Kit, Dharti Ka Doctor App And Harit Kranti For Fertilizer Recommendation. The Approach Is Based On An Integrated Consideration Of All Parameters (Agro Climate, Type Of Soil, Soil Test Report, Crop, Season, And Weather Status). For Traceability Of Fertilizer Sales, B-POS And B-DMS Can Be Installed In Agrochemical Retail Outlets And Manufacturers, Respectively. Farm ID-Based Fertilizer Purchase Allows To Track Fertilizer Consumption At The Farm Level. Harit-Kranti Is A Patented Technology That Includes The Unique ID / Code System For Farms (202111059180), Digital System To Manage Farmer, Agriculture Land And Crop (202111039484), And Digital Agriculture System (202011056765).
Barcoded Pouch Named Mrida Sangrah Thalley For GPS Tagged Soil Collection.
Testing 15 Parameters By Dharti Ka Doctor (DKD)
Recommendation For Chemical/Organic/Mixed Fertilizers Based On Soil, Area, Agroclimatic Zone By Harit Kranti App.
Transparency And Traceability In Fertilizer Sale Through B-POS.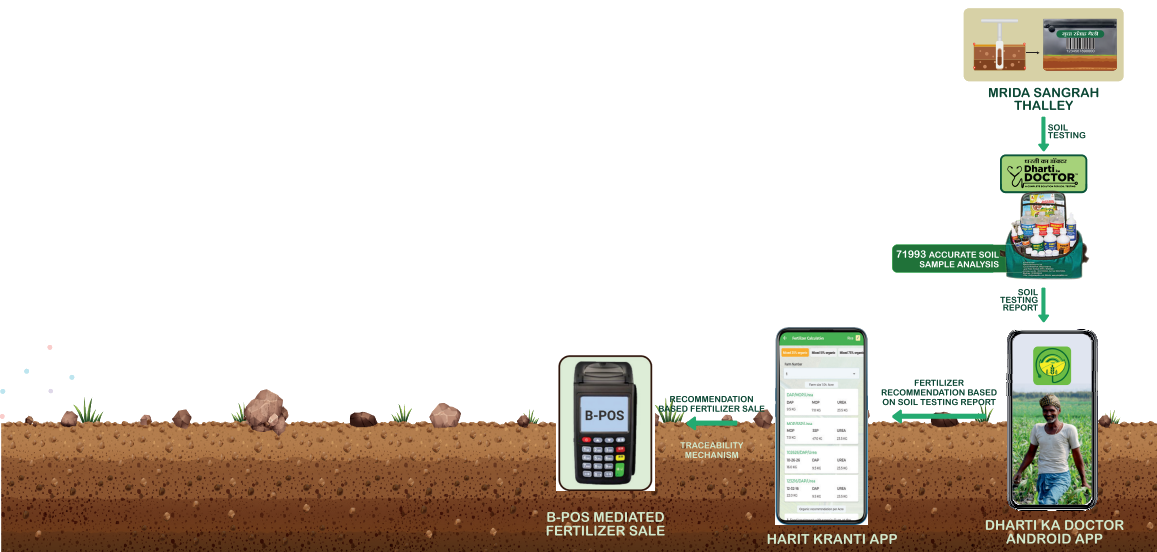 Agro-Advisory
System
Soil Health
Seed Selection
Fertilizer Recommendation
Farm Mechanization
Irrigation Planning and Management, Weather
Forecasting
Crop Health and Diseases
Post-harvest Management

Digitizing Agri-Land
Holding Records
Creation Of A Unique Farm ID; Linking Farm ID With Land Parcel's Longitude And Latitude Coordinates; Geo- Referenced Cadastral Maps; Linking To Ownership (Family Register, Voter Id, Ration Card, And Other Associated Databases), Schemes, Loans, Insurance.
Benefits the government's Digital India agenda as well as the general public.
Solution to all land concerns such as Real-time land ownership.
Reduction of heavy and time-consuming paperwork.
Integration with Central & State Govt. Programs, Schemes & training available for farmer benefits.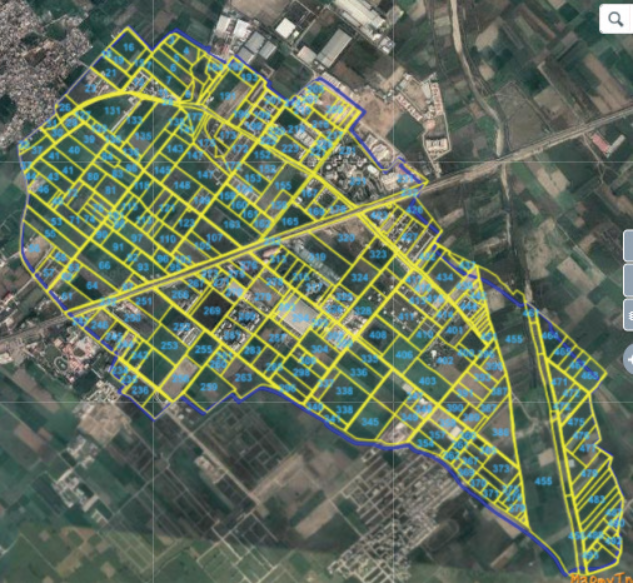 Crop Yield Prediction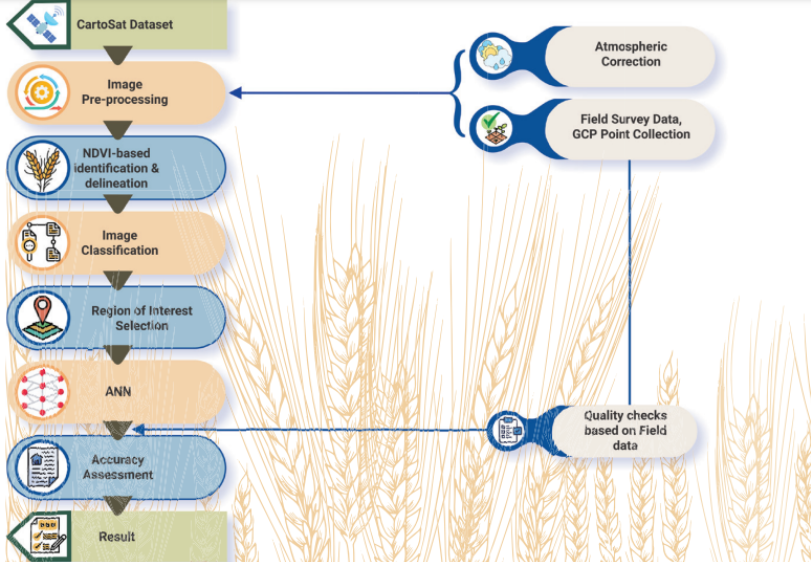 Benefits to the Farmers
Suitable Crop Selectionv
Crop Health Status
Crop Yield Prediction
Local Agro-Market Rates
Benefits to the Government
Management of Agriproduce surpluses and shortages.
Management of the Food Supply
Data-driven Decision Making
Weather Forcast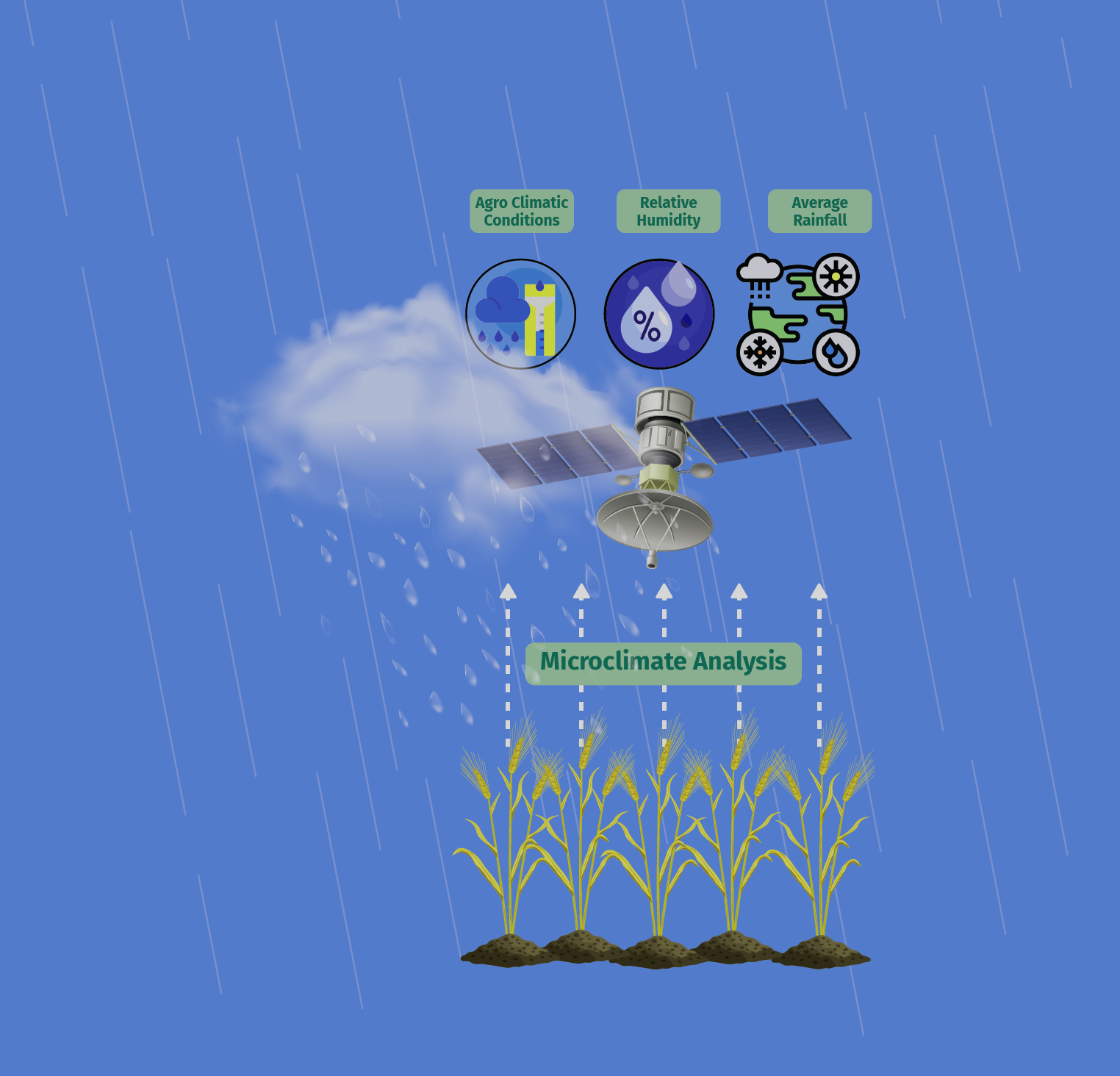 Annadata
Annadata is a multi-layered agricultural commodities marketplace. It connect farmers, FPOs, traders, and mandis on a single platform for trading of agricultural products. Annadata is a patented technology that includes the Multilayer Marketing Platform (202111056213), Multipurpose Platform for Buyers, Sellers and other Stakeholders (202011024818).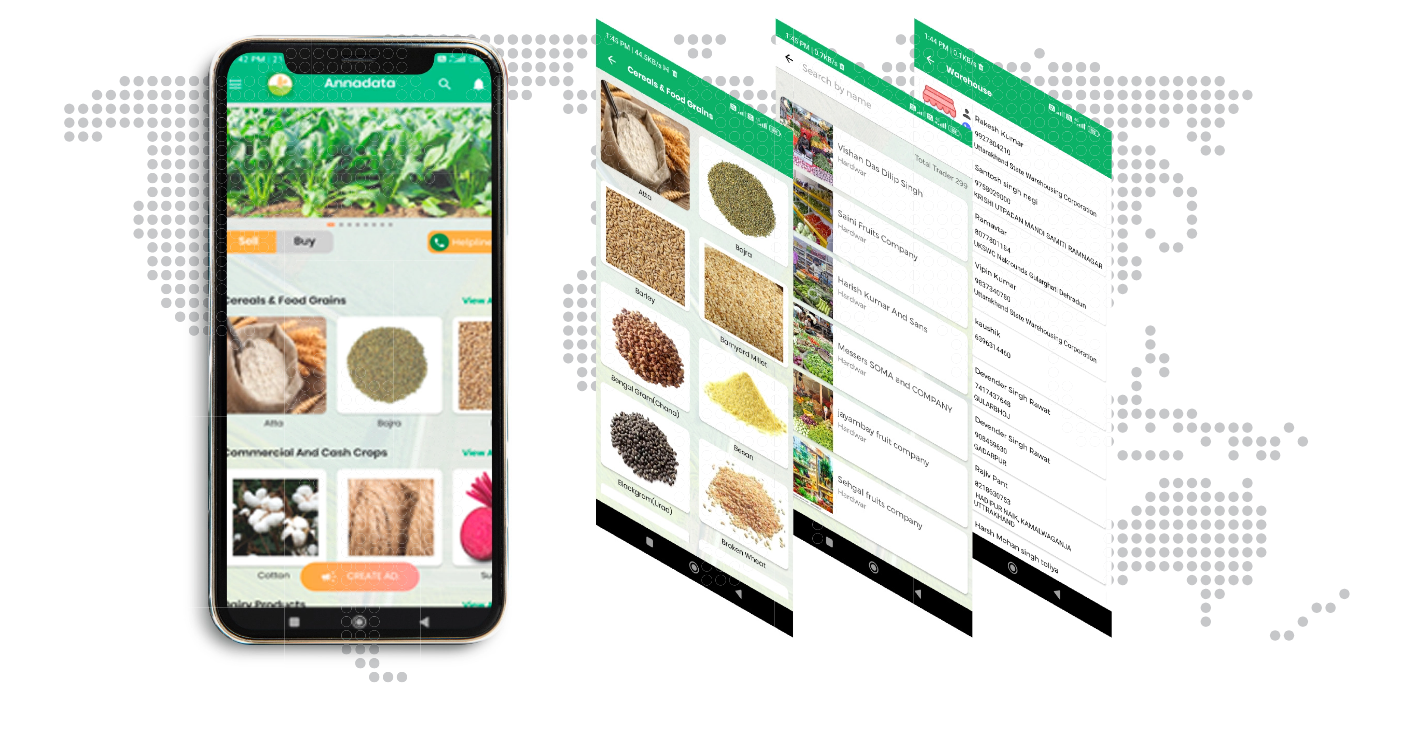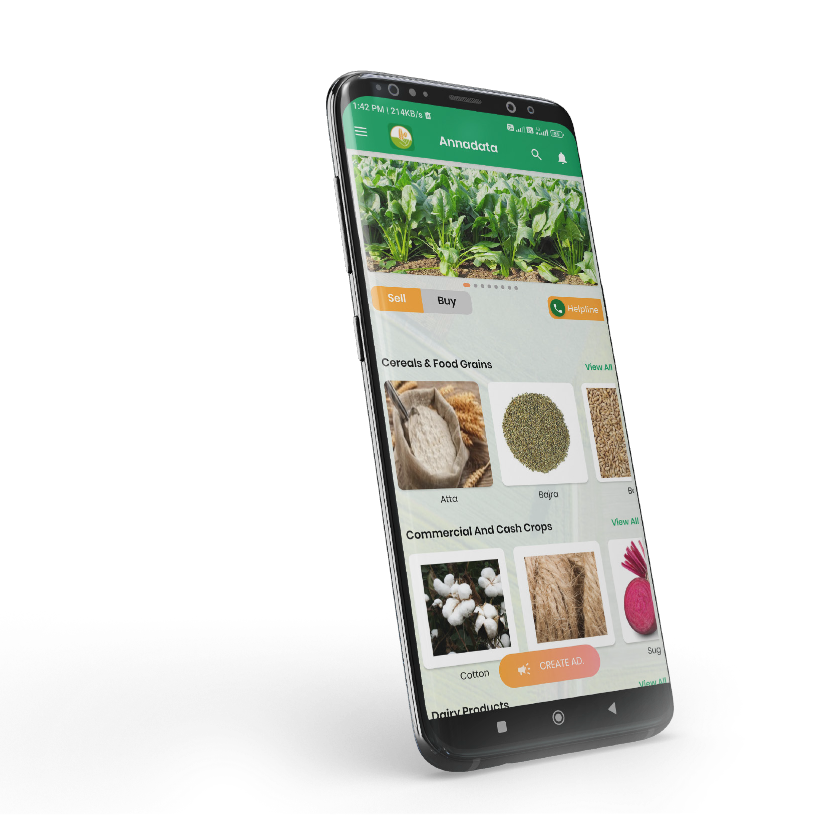 Features of
ANNADATA
Multi-layered & user-friendly online marketplace for agri-commodities
An auction/bidding or fixed price based trading platform for agricultural products.
Distance-based sellers filtration for agri-product procurement.
Nearby warehouses for agri-product storage.
All-in-one solution for farmers, traders, FPOs and mandis.
Establish direct connections without any intermediaries.
Enhances market accessibility and facilitate to sell or buy at local or national level.
Real-time mandi rate updates.
Increases profitability of all stakeholders through transparency and competitiveness.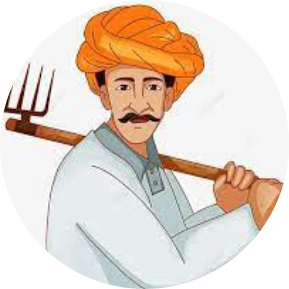 Benefit to Farmers & FPOS
Transparency in trading operations
Single platform for pan India access
Accessibility in regional languages
Real-time market intelligence for informed decisions
Better price discovery through auctions
Location-specific mandi rates
Access to warehousing &
logistics facilities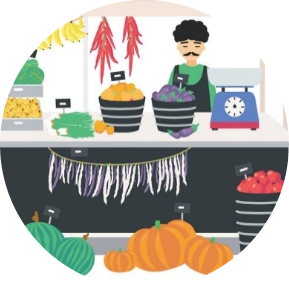 Benefit to Farmers & FPOS
Comprehensive and integrated marketplace
Pan India trading facilities
Access to quality assessment of commodities
Linkage to logistics & warehousing facilities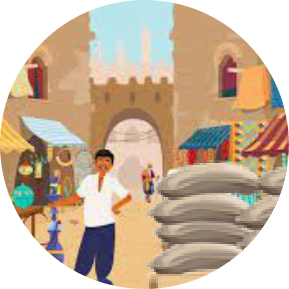 Benefit to Farmers & FPOS
Commodity insights through MIS
Qualitative knowledge of various commodities
Access at regional as well as national level
Real-time monitoring of market operations
Automated billing & accounting services
Annadata
Single User Interface Access
Price Wise Product Optimization
Distance Wise Product Location
Stock Wise Product Visualization