-BANK

B-BANK is an advance, Patented (202011050665), and complete solution for all business requirements. B-Bank is a finance, project monitoring & analysis solution which provides a comprehensive solution for financial traceability with accounting, billing, inventory & project tracking. B-Bank facilitates the process of loan underwriting by implementing due diligence framework with e-KYC, Distributed Ledgers and Cashflow monitoring.
All in one Android POS device.
Billing software facility available on device.
Inbuilt thermal Graphic printer in device.
Accept Payment through all types of card.
Payment accept through open loop (i.e. Debit and credit card.)
Payment accept through different types of wallets.
Mini ATM facility also available on this device.
We provide Small ticket Loan.
Barcode reader facility available on this POS device.
Real time transaction tracking facility available on POS device.
POS device working through Wi-Fi and SIM card also.
Digital Audio Speaker available in device.
-ERP

B-ERP is a cloud based Enterprise Resource Planning (ERP) solution to automate core business functions, increase productivity and optimum use of man, material and money.

Harit Kranti
Harit-Kranti is an Agro-climatic assistance app for providing information related to the agro- climatic conditions, seed sowing time recommendations, harvest predictions and post-harvest management.
Detailed reports for the weather analysis, sowing and harvesting time recommendation are ultimately produced for further deducing the probable crop yield.
Extreme weather alerts like hailstorm or unseasonal rains
Seed harvesting time suggestion
Seed sowing time suggestion (avoiding sowing of the crops that are not feasible for a given area at a particular time)

Annadata
Annadata (Kisan) App is dedicated to all farmers (Kisan), retailers, wholesalers, hotels, herbal and food parks etc. who are involved in buying & trading farm products directly to customers.
Farmer need to post add for their products by clicking image and inserting some basic information on "Annadata" (Kisan) App.
Annadata" (Kisan) App is a bilingual app, regional farmer can understand it with ease.
The app is dedicated for farmer's to find customers for their farm products.

Dharti Ka Doctor
DKD is a Mobile App for real time assessment of various agricultural inputs on a single interface by analysing soil profile and providing recommendations for fertiliser and seed selection.
Focussed on Soil Testing, Seed Selection and Fertilizer Calculation Algorithms.
Seamlessly Integrating Soil Surveillance Data and fertiliser Recommendations
Optimisation of Choicest Seed Selection Through the Integration of Chemical analysis
Algorithm Mediated Simulative Suggestions and Real time I.T. Based Solutions
- DMS
Retailer level Inventory Management
All the stakeholders – Head Office, Distributors and Sales Team can view & manage inventory across multiple warehouses in a real-time manner.
Sales Team Management
Integrated with B-Force for sales team and order tracking. Ensures better and real-time performance tracking.
Distributors in-sync with Merchants
Plan better with real-time information about the stock with the distributors and retailers. You can also capture, modify & re-order stock and view in-transit details as well.
Farm-to-Fork Traceability
Connecting the manufacturers and producers directly with the consumers via this platform; Covering all the procurement sources, e.g., agriculture, horticulture etc.
Balance Stock Levels & Avoid Shortages
A distribution-focused ERP solutions can give your firm the ability to balance stock levels, take control of inventory and ordering without overstocking.
Reports & BI Dashboard
Head office will receive overall as well as detailed reports. The distributor will be allowed to view the Sales Team and connected retailers. This feature helps in detailed analysis and introducing corrective steps on real time basis.
- POS ERP
Real Time Cloud-Based Solutions
Inventory & Accounting
Blockchain technology Enabled
Customized Business reports
SMS/ Email scheduler
GST Reports/ E-way bill / E-invoice
Loyalty Programs Management
Schemes & Offers Automation
- LIVE
Owner App
Business in your Mobile
All Reports at your Fingertips
Access Anywhere
Business Tracking
- PI
Stock Audit at a Go
Real Time Inventory Update
Live Inventory Match
Minimizing Cost & Maximizing Profit
Physical Stock Mapping with your Mobile
- WMS
B-WMS are house management system (WMS) is a software application designed to support and optimize warehouse functionality and distribution centre management. B-WMS facilitate management in using simplified automatic technologies useful in daily activities like planning, organizing, staffing, directing, warehousekeeping and controlling the utilization of available resources, to move and store materials inside, around and outside of a warehouse, while supporting staff in the performance of material movement and storage in and around a warehouse, without causing any large scale disruption to business resources.
- FORCE
Attendance Management
Daily attendance of sales team
Working Hours tracking
Route & KM's Tracking
Map tracking
Live tacking of employees on map
Route travelled history with per day calculation
Customer/ Locations visited with real-time geo-tagging
Start and end locations with time and address details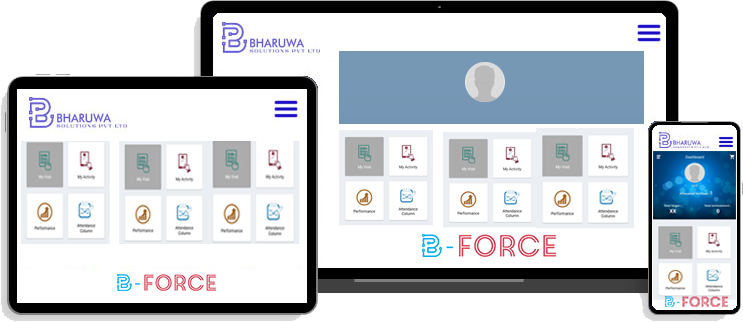 Expense Management
Tracking total expense of the team per day.
Making payments and maintaining the records of the expense.
Complaints
Team can register complaint of customer when on the visit.
Complaints will directly be reflected to the distributor with proper details & will be documented.
Payments
Collecting payments through various digital payment modes for settling the outstanding bills of the Customer.
Getting payment updates directly on B-DMS portal and if required can be directly synced to B - POS ERP.
Tracking total payments collected by the sales team per day.
Target Management
Daily work target of the sales team can be set and monitored.
Both value wise / quantity wise target can be set.
FMCG is the mother of all industries owing to its long time existence. It is also known as Consumer packaged goods which are sold rapidly and at a minimum cost. It has vast presence in urban and rural market of India offering a wide array of products. It includes non-durable household goods such as packaged foods, beverages, toiletries, candies, cosmetics, over the counter drugs, dry goods and other consumables. The distribution network is well managed by national and international players and there is tough competition between organized & Unorganized segment.
Due to the intense battle in the industry, the entire eco-system faces a huge challenge every day: rising cost, diminished growth and technology related issues.
At Bharuwa Solutions, we expertise in providing a standard as well as customized technical solutions covering all aspect a Company, C&F, Distributor, retailer faces while launching discount, schemes, loyalty programs and inventory management at all level. Its latest technology enables all stakeholders to take wise decision directed towards revenue enhancement.
Schemes management
Loyality management
Rack management
Indent (reorder management)
Barcode wise fast billing
Item bulk to loose conversion
Excel import/export
Garment industry is one trillion industries which employs 6 million workers both directly and indirectly in equal proportion. The industry manufactures over a 100 different types of garments for men, women and children. These include overcoats, raincoats, suits, ensembles, jackets, dresses, skirts, trousers, shirts, blouses, inner-garments, T-Shirts, jersey/pullovers, babies garment as well as accessories like shawls/scarves, handkerchiefs, gloves and parts of garments.
Garment trade includes retail trade which is spread over department stores, hyper markets/ discount stores and specialty stores. A number of shopping malls have sprung up all over the country, especially in the metros.
At Bharuwa Solutions, we expertise in providing a solutions for garment retailer and distributor with focus on multi- category management, matrix management, barcode management, loyalty program management and discount management. Our industry focus approach with quality technology used will enable all stakeholders towards profit maximization.
Category wise mapping
Barcode wise billing
Article number
Multi category
Scheme and discount management
Loyalty programme
India is the largest provider of generic drugs globally and enjoys a substantial position in the global market. We as a nation provides 50% of global demand for various vaccines. The stock keeping units of manufacturer, retailor and distributor are huge and maintenance of the same requires acute understanding of the market along with its channel.
There is huge pressure on all network to manage the inventory and also keep a tab on overall profitability. This is majorly due to stiff competition in the market.
At Bharuwa Solutions, we expertise in providing a standard as well as customized technical solutions covering all aspect a Company, C&F, Distributor, retailer faces while launching discount, schemes, loyalty programs and inventory management at all level. Its latest technology enables all stakeholders to take wise decision directed towards revenue enhancement.
Multi-unit billing
Doctor Commision management
Prescription management
Batch and expiry management
Salt Management
Customized report
(Schedule H1, Narcotic)
E-Commerce has transformed the ways business is done in India. Year on year, this industry has grown into leaps and bounds. Most of this has happened due to penetration of internet and smartphones in the country. Big companies with huge investments are dominating the market. Along with that local distributors and retailers have forayed into this segment.
The challenge of this industry is the way to manage the Omni-channel as every step involves strong interconnection with different aspect of functioning which includes website making, order app for customer, software for managing the orders and finally co-ordination with delivery companies for supply of the product. This is a vicious circle which if not managed properly could lead to utter failure and bad reputation in the market.
Customer can order from the app
Order Tracking
Easy, affordable and effective way to reach end customer
Payment Option
Offer & scheme visible to Customer